Young Voices From The Future
EACC Florida's Young Voices from the Future
Miami 2
COVID-19. EACC Florida is slowly resuming in-person events and will continue online programing to deliver the content members and the transatlantic business community have come to expect !
Photo by Muzammil Soorma on Unsplash
Miami

Where Europeans & Americans Connect to do Business
Photo by Gautier Salles from Upsplash
Miami 3
EACC Florida. Also serving Latin America in Europe and Europe in Latin America
Photo by Anugrah Lohiya from Pexels
Welcome to the European American Chamber of Commerce Florida (EACC Florida)!
The European American Chamber of Commerce Florida creates business opportunities for members by connecting them to our extensive European and American network and by providing strategic and relevant programming to help members grow.  We serve member companies across the transatlantic corridor and are "Where Europeans and Americans Connect to do Business."
Today, the European Commission has launched the 2022 European Semester cycle of economic policy coor...
Federal bank regulatory agencies today issued a statement summarizing their interagency "policy spri...
Framework assesses security and efficiency of electronic payments, including electronic wallets and ...
To continue playing its role as the anchor of the monetary system, central bank money will need to r...
With more than a century of consumer protection experience under our belt, we at the FTC know that h...
This is a selection of news about EU-US relations, especially chosen from the websites of the EU Commission, the EU Delegation in DC, IMF, OECD, etc.
Upcoming Events
Brought to you by EACC Florida. Please join us for Lunch & Learn to hear from and engage with ou...

Program brought to you by EACC Florida In the past ten years, ESG (Environmental, Social, Gov...
---
Past Events
There is a lot of momentum behind the recovery and we should see some solid growth numbers for the E...

Program brought to you by EACC Netherlands. The Dutch Data Protection Authority (Autoriteit Persoons...

Program brought to you by EACCNY. Angela Merkel has been in office for 16 years and has been an extr...

EACC Texas is honored to present EU Texas Economic Leadership Forum. Venue: The Debate Chamber at Ol...

EACC Florida Meets Peter Young Peter Young is Deputy Head of the Trade and Agriculture Section at th...
On November 19, Christina Sleszynska, Executive Director of EACC Florida, had the great ple...
Christina Sleszynska, EACC Florida Executive Director, met with Dan Mulhall, Ambassador of ...
Learn about the challenges, benefits and key considerations when consolidating multi-countr...
Funds managed by Antin Infrastructure Partners, an infrastructure investment firm, have ent...
Global supply chains need USD100 trillion of investment by 2050 if they're to achieve net z...
November 2021 – EACC Florida Meets Peter Young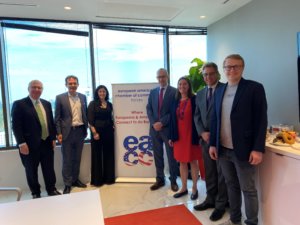 May 2021 – Europe Day with the EU Consuls
March 2021 – EACC Florida CEO Luncheon
Founding Members / President's Circle